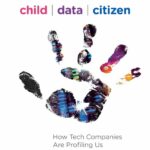 "Child Data Citizen is a timely wake-up call for anyone who cares for and about children in the 21st century" says Kate Eichhorn in Science. I was honored to read how Science reviewed the themes of my book and underlined how the critical implications of our families being turned into data are not losing their relevance as the year of 2021 unfolds.
"Drawing on her training in anthropology and her background in media theory and history, Veronica Barassi takes a deep dive into the increasingly complex and compromising experience of datafied parenting in Child Data Citizen. The book consists of nine chapters, each of which focuses on a different type of data that is routinely collected from parents during their daily interactions with their children."
I am happy to see the field of anthropology coming to the fore in this review. When it comes to understanding the impacts of online technologies, it is critical to examine the Human Error these technologies will always make when they try to reduce human beings to data sets. And, therefore, to highlight what makes every human being, child or adult, absolutely unique.
You can read the full review here and click here to find out more about Child Data Citizen book.