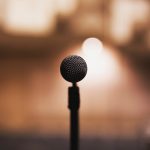 On the 3rd of May I delivered a Keynote at the fifth annual Research & Inquiry Conference at UCLA Graduate School of Education & Information Studies. The talk drew on the findings of the Child | Data | Citizen Project, and explored the multiple variety of data traces that are produced daily about children and critically considered how these data traces can be used to profile them as citizen subjects.
In contrast to theories of panopticon surveillance (Lyon, 2014) or quantified selves (Lupton and Williamson, 2017) the aim of the talk was to shed light on the messiness and inaccuracy of the process of datafication in family life. What I wanted to show was that there is a clear human disconnect between technological structures and everyday practices, as families most of the times do not use the technologies as they are supposed to or use these technologies in tactical ways to avoid dataveillance.
The highly diverse forms of data collection technologies combined with the unpredictability of human practices is leading to the creation of large amounts of personal information that is often fragmented, imprecise and mistaken. In this context, the talk will conclude we need to start tackling serious questions about data traces, algorithmic inaccuracies and profiling.
You can find more details of the talk, as well as an excellent podcast of a Conversation between Prof. Leah Lievrouw and myself, here.