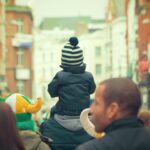 On the 21st of September, 2016, I published a short article on the 'Parenting for a Digital Future'  blog that discusses a piece of research that I carried out on activists' families. The article argues that activist families often portray their children on social media as political subjects, and questions whether these digital traces may lead to processes of political profiling of children. As argued elsewhere on this website, digital profiling (LINK TO KEYWORD) can take many forms and can lead to many different 'narratives' of a given individual. One can be profiled for its consumer habits, it's ethnicity, religion, health, class and of course politics.
Of course amongst tech-giants at the moment, there is a growing attention to 'sensitive personal information'. Google for instance argues that they require opt in consent for sharing any sensitive personal information, relating to confidential medical facts, racial or ethnic origins, political or religious beliefs or sexuality.
Yet when we think about digital profiling we need to move beyond a focus on the 'profiling' that is operated by machines, and we need to consider how digital profiling is a very human process that is done by many of us in our everyday practices. If we are employing someone, have just started to date someone, or if we want to find more about an individual, we often 'google' them, we follow the different digital traces and we make up a narrative in our brains. Hence even if digital companies suggest that they they pay attention to sensitive personal information, that information is often out there, on our search engines, our social media, mobile apps etc. The case of the activists' families sharing political data of their children is an example of how digital traces are often defined by sensitive personal information, and how this information can lead to processes of political profiling.