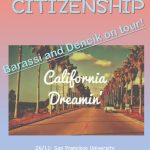 I am delighted to share with you the news that Dr. Lina Dencik (Cardiff University, Data Justice Lab) and I will be on a California speaking tour on Data and Citizenship.
"As more and more social activity and human behavior is being turned into data points that can be tracked, collected and analyzed, we need to ask critical questions about the everyday surveillance of citizens' lives and the emergence of new forms of data governance. This talk argues that in order to address these questions we need to consider how 'digital citizenship' is being transformed by our data cultures. To date the concept of 'digital citizenship' has been used by very different scholarly traditions to describe how digital technologies have enabled individuals to participate in society (Mossberger et al. 2007) and to perform one's own citizenship by enacting specific rights online (Isin and Ruppert, 2015). Yet in the last few years, it has become evident that we are not only digital citizens because our digital practices enable us to enact and perform our public persona online but we are also datafied citizens because our data traces talk for and about us (Hintz et al, 2016, 2018; Barassi, 2016, 2017b).
This talk will present two projects that are both concerned with the advent of 'datafied citizenship' and its implications, particularly for those who have historically been at the margins of citizenship debates. Dr. Veronica Barassi (Senior Lecturer, Goldsmiths University of London) will discuss her project Child | Data | Citizen and Dr. Lina Dencik (Reader, Cardiff University) will discuss her project on Data Justice. By presenting these projects, they will argue that current debates on data governance and datafication are often technologically focused, abstract in analysis, or decontextualized in approach. In contrast to these approaches, they argue for the development of a research perspective that studies datafication – and the emergence of datafied citizens – by simultaneously taking into account technological and political economic structures on the one hand, and every day practices and beliefs on the other. They will show that such an approach serves to expand our notion of data politics – understood as the performative power of or in data (Ruppert et al. 2017) – and can enable us to uncover key and context-specific questions about the multiple ways in which citizens are reconfigured within new data constellations and how, they in turn, engage with such configurations."
26/11: San Francisco University
27/11: University of Washington
28/11: Stanford University
29/11: University of California Los Angeles
30/11: University of Southern California
Stay Tuned for more updates.